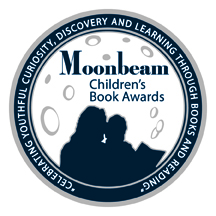 Amazon.com Advanced Reviews –
"Astronauts and Authors…(On My Way to the Lilikoi Tree) an exciting find in the lineup at BEA 2015." – Los Angeles Times
Moonbeam Children's Ebook Award Winner – "The Moonbeam Children's Book Awards are intended to bring increased recognition to exemplary children's books and their creators, and to support childhood literacy and life-long reading. The Awards recognize and reward the best of these books and bring them to the attention of parents, booksellers, librarians – and to children themselves." – Jim Barnes, Awards Director
The real reviewers here are my 3 year old twins. Every since I first read it to them (months now), they ask over and over for Lilikoi Book, Lilikoi Book! It is a wonderful story, and as someone who loves Hawaii, I love that it has aspects of Hawaiian nature, life and culture about which the kids ask questions. My kids know all the characters by name and sometimes pretend they are them. Truly a delightful read, and it's been in our Top 10 list from the day we got it. 
I have given this book to my 8 year old grandson. The story captured his attention from the first page. He loved the illustration. He asked to read it every time he came home for a visit. He also took it to his school and read to his classmate. His school is considering adding the book in their library. I would recommend this book to schools and libraries. Cannot wait to give my grandson another book by the author. -Laila El-sissi, Author
When I first read this book, it made my smile and reminisced fondly of Hawaii. I got happy thinking of the places mentioned in this book. Although this book may have been written for children, I enjoy reading it again and again. The characters remind me of the diversity and cultures in Hawaii living together in perfect harmony. Thanks Jonna for this awesome book. 
Advanced Reviews –
On My Way to the Lilikoi Tree is a wonderful treat for parents and children alike. From the start my kids asked me to read this book to them over and over! It's literally one of their favorite books, which they bring to me and ask me to read to them. They know everyone's names, and love talking about the culture of Hawaii. And most fun of all, the word Lilikoi is almost a daily refrain in our houseful. (Refrain as in the chorus to a song heard more than once!) -Dakin Ferris, Attorney, Author, Dancer Oakland, CA
On My Way to the Lilikoi Tree is a story that takes place on the islan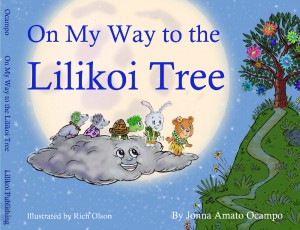 d of Oahu, Hawaii.
This island is known as "The Gathering Place" where Fluffy Fluff (the rabbit) meets Honu (the turtle), Hula-Hula (the bear), and the Hinas (two seal pups). Their adventure begins in their quest to find the Lilikoi Tree. They explore the island through sharing, caring, and harmony in the Spirit of Aloha.
On my way to the Lilikoi Tree is Jonna's first children's book has won the Moonbeam Children's Book Award in November 2016.